Technobeans is the master in providing BookingKeeping Services and back office support for companies in Saudi Arabia. We also offer expert consulting services for Accounting, ZAKAT, VAT and Auditing.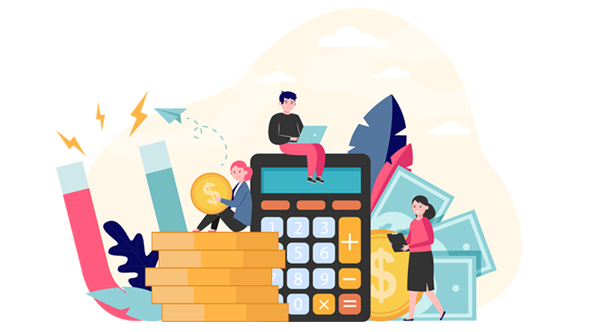 Technobeans Bookkeeping & Accounting -
You are in Safe Hands!
We handle all aspects of accounting and seek to comprehend your company's accounting and bookkeeping needs in Saudi Arabia as well as long-term goals so that we may customize a package that fulfils all of your needs.
Saves Time &
Money
A well-kept fiscal record of your firm gives you real-time insights to make smart business decisions.
Cut Down
on Costs
Streamlined financials prevent the wastage of money and stop overspending on resources.
Business
Growth
Being compliant with all financial rules and regulations of KSA opens doors to stress-free business.
Reduced
Fraud
An in-depth know-hos of your financial status ensures the absolute safety of your data and resources.
Enterprise
Solution
Integrate multiple facets of business through the interchange of information from various areas.
Financial
Intelligence
Financial intelligence helps people feel more committed, trust increases and results improve.
Technobeans - Let's Keep your
Books And Finances on Track.
Our experts handle all company financials seamlessly to ensure the company's understandability, reliability, comparability, relevance and a well-structured presentation
Meet the Team of Saudi's Finest
Financial Professionals
Technobeans provide state-of-the-art accounting and bookkeeping solutions to help clients grow and expand their businesses successfully. All our services are designed and executed with strict adherence to business morale.
Virtual Accountant
A skilled, dedicated team providing virtual accounting operations to manage your accounts payable, accounts receivable, projects, general ledger postings, bank reconciliations, financial statement preparation and MIS Reporting for the Small and Medium Business (SME) Sector.
Virtual Auditor
We are focused on delivering high-quality virtual audit services which are responsive to the business needs of the ever-evolving world of business in Saudi Arabia. We hire and retain talented professionals, training and coaching them adequately in order to facilitate secure, efficient audits.
You Run The Business.
Let's Handle The Rest.
Experts from Technobeans will review all the ample financial details and will give you a whistle when things start deviating.
Technobeans - Your Expert
Financial Advisors
Accounting and bookkeeping is the systematic process of identifying, documenting, analysing, classifying, authenticating, abridging, construing, and communicating financial data. It properly discloses profit or loss for a specific period, as well as the value and nature of a company's assets, liabilities, and ownership share. It contains a custom body of knowledge connected to procedures for documenting transactions, keeping financial records, executing internal audits, reporting and evaluating monetary data to management, and tax advice.
Back office Accounting
It includes acting to process receivables, payables, cash, employee expense, and inventory transactions. Maintaining the integrity of the general ledger and ensuring that transactions are correctly classified. Reconciling all major Balance sheets and Profit & Loss account balances at the end of a reporting period.
Accounts Payable
The Accounts Payable department is responsible for the financial, administrative and clerical support of a company. They are in charge of making payments owed by the company to suppliers and other creditors, paying vendor invoices or bills, and recording the company's short-term debts.
Accounts Receivable
Our experts correctly bill clients for services and work with other departments to verify and record transactions and resolve account discrepancies. We also collect the correct amounts from the customers on time by providing the necessary support throughout those processes.
GCC VAT Implementation and Submission
VAT is an indirect tax charged at each stage of economic activity throughout the supply chain. Firms with an annual turnover of SAR 375,000 is required to register. We assist in ERP implementation, management training, compliance management advisory, litigation support and VAT filing
Payroll
We manage & administer the company Payroll shared services and ensure compliance and accuracy in monthly Payroll activities. We create a list of paid employees, calculate their working hours, estimate their pay, give their salary on time, and record the expense of
payroll.
Employee Reimbursement System
Reimbursement is money paid as repayment for a business expense, insurance or taxes. We make sure that employees input their own spending and documentation to help companies manage the reimbursement process and analyze spending and find opportunities for cost-saving measures
Track the financial health of your business and its evolution
Bookkeeping and accounting will allow you to recognise and handle problems before they become major issues. You can detect any fraudulent behaviour and stop it before it does irreparable harm to your company.
Keep an insight of your company's performance
The major and minor financial concerns may be addressed rationally by our competent accounting expert team that keeps up to date and adapt to any changes, ensuring total precision and compliance with the current relevant rules.
We're Here To Help You!
Fill in the following form and send us your queries. Our executive will get in touch with you at the earliest!